Ok, I bet all of you homeschoolers are wondering if I even homeschool anymore. The answer is yes ~ in fact, I absolutely DO! The dealio is, though, I just don't have time to post it all,
However, in the spirit of bending to my current whims & obsessions, I amazingly DID have time to photograph a couple of crochet projects I did for my sister-in-law's new baby. (If little Lucy turns into a boy at the last minute, I'm sorta toast, because I just sent these off, and she (Lucy) isn't quite born yet.) It helps that I specifically posted these so that my mother in law could see them first. :-D (We love you guys & miss you SO Much!)
Any way here are the goodies.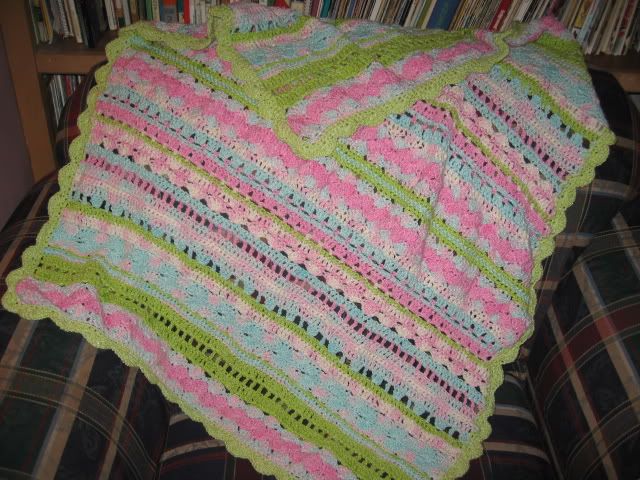 This is my stitch sampler blanket ~ or I like to call it my Jacob's Blanket of many colors/ stitches. It is made of hand-dyed cotton yarn. The cotton yarn has a nice little rayon thread running through it which gives it a pretty baby shine.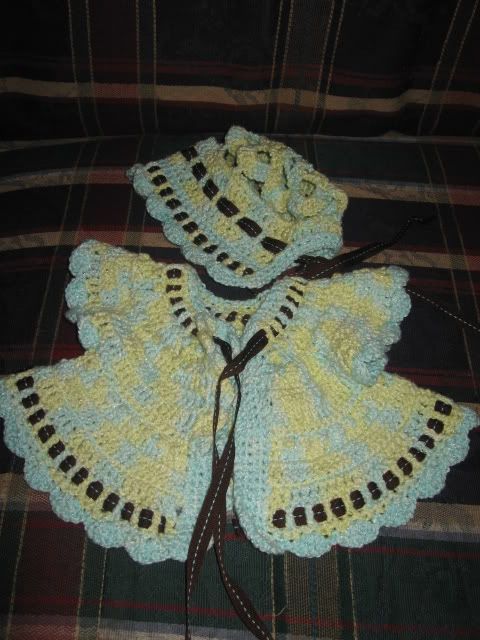 This is the layette, which hopefully fits little Lucy. It should fit up to 3 months, but that's if the child isn't born weighing over 9 lbs. Which I suppose is possible. Afterall, my second oldest ( who is now ~ GULP ~ almost 17!!) weighed in at a whopping 9 lbs even. You could set her next to other babies & she looked about 3 months older/ bigger. I don't wish that scenario on any mother! ;-D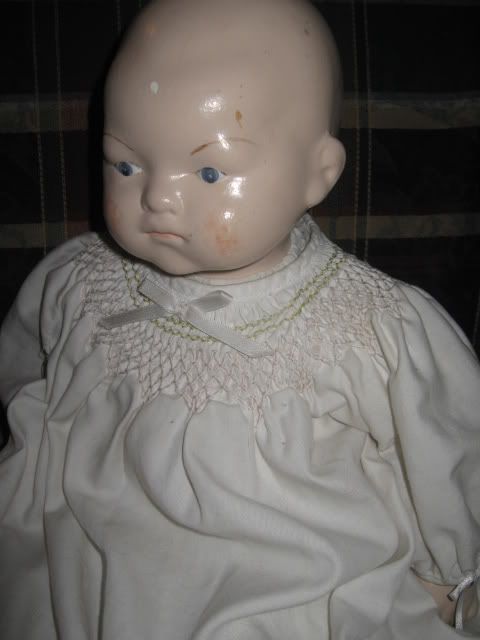 This is just an old baby gown that I made for my 4th oldest daughter ( garsh, and that child is now.. hoo booyy! 13… whoa, where do the years go??!?) I hand-smocked it, but the funny thing is, I had no clue about how to smock, so I just did it, and that's what turned up. I recently bought some books about smocking, and realized that there are little patterns with guidance dots, and machines that will pleat it for you, and all sorts of goodies that make it easier. As I read those books, I was like " Ooohhh… duh… yup, THAT would've been nice to know!" I just posted the picture because that was what was on the dolly underneath the new crocheted outfit.
And how do you like that dolly? ~heheheh~ That is my sad attempt at putting together somebody else's cast-off ~ found on eBay~ cheapo-deluxe ~ porcelain doll project. But hey, it's pretty much life-size for a little older than newborn ( about 3 months) so it makes for a good try-on model, and besides which, the daughter who received her couldn't care less that she has sorta funky arms, a tippy head, and some bad face paint..
So it's all good.